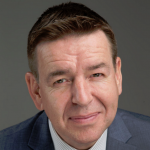 Paul Wozencroft has been appointed Managing Director, Property Assurance at CET – a leading provider of outsourced services to the insurance sector. Paul will take up his new role on 1st April as part of the Senior Management Team led by the CEO, Bob Blunden.
Paul was previously Managing Director at Innovation Group Underground Services and is the current Chairman of the Future Water Association, a not-for-profit organisation supporting innovation within the water industry. He has a wealth of experience in insurance, claims management and utilities; which means he is ideally placed to lead the Property Assurance team at CET.
The team specialises in home emergency response and insurance fulfilment, as well as subsidence investigation and mitigation and drainage services. Paul is a firm believer in the strategic outsourcing of services within the industry and has a proven track record of developing and launching propositions within the insurance sector.
Bob Blunden said: "Paul's appointment is a strong statement of our intent to develop our market position, at a time of opportunity within the property claims market. He is an experienced and trusted leader within our sector who enjoys a track record of developing and launching products and services that have longevity.
Paul Wozencroft said: "CET is recognised as a reliable outsource performer, thanks to their strong relationships with their clients, offering valued outsource services using clever technology. Having met Bob and sharing his passion, I could not work anywhere else."