#TheCETWay
CET's Environmental, Social and Governance (ESG) Programme, #TheCETWay, was launched in 2019 and targets four key areas of business - People, Environment, Business Ethics and Partnerships.
Our ESG initiatives are underpinned and enhanced by innovation and technology, which already runs throughout our business.

CET's people focus has already begun through a number of charity events, awareness raising initiatives and community support. Read more about this by clicking here.
Mental Health and Wellbeing
CET is committed to protecting the mental health of all employees. We pledge to combat the stigma of living with mental health conditions, as well as to create a safe environment for our employees to be open with all of their colleagues, including the senior management team.
By embedding mental health conversations into all our practices, from performance management to health & safety, we will create a culture that makes mental health a priority. We continue to look for new ways to support all of our employees, raise awareness of issues, including creating more Mental Health First Aiders and Champions in addition to our existing ones that are based across the CET Group.
During Mental Health Awareness Week 2019, CET raised over £10,000 for three leading mental health charities; Samaritans, Place2Be and The Lighthouse Club.
Our senior management team all participated in #MHAW Challenges, to raise awareness of mental health and to raise money for our nominated charities. Challenges included swimming the equivalent of the length of the English Channel, giving up alcohol and barbecuing across multiple sites in the group.
In Autumn 2021, CET launched it's Let's Talk campaign, aiming to get conversations started around mental health and to create an open culture in the workplace.
The Mental Health of Our People is a huge priority for us, which is why all 13 of our Mental Health First Aid Ambassadors came together and created a video to help educate everyone on the seriousness of ill-mental health and the importance of talking to one another about it.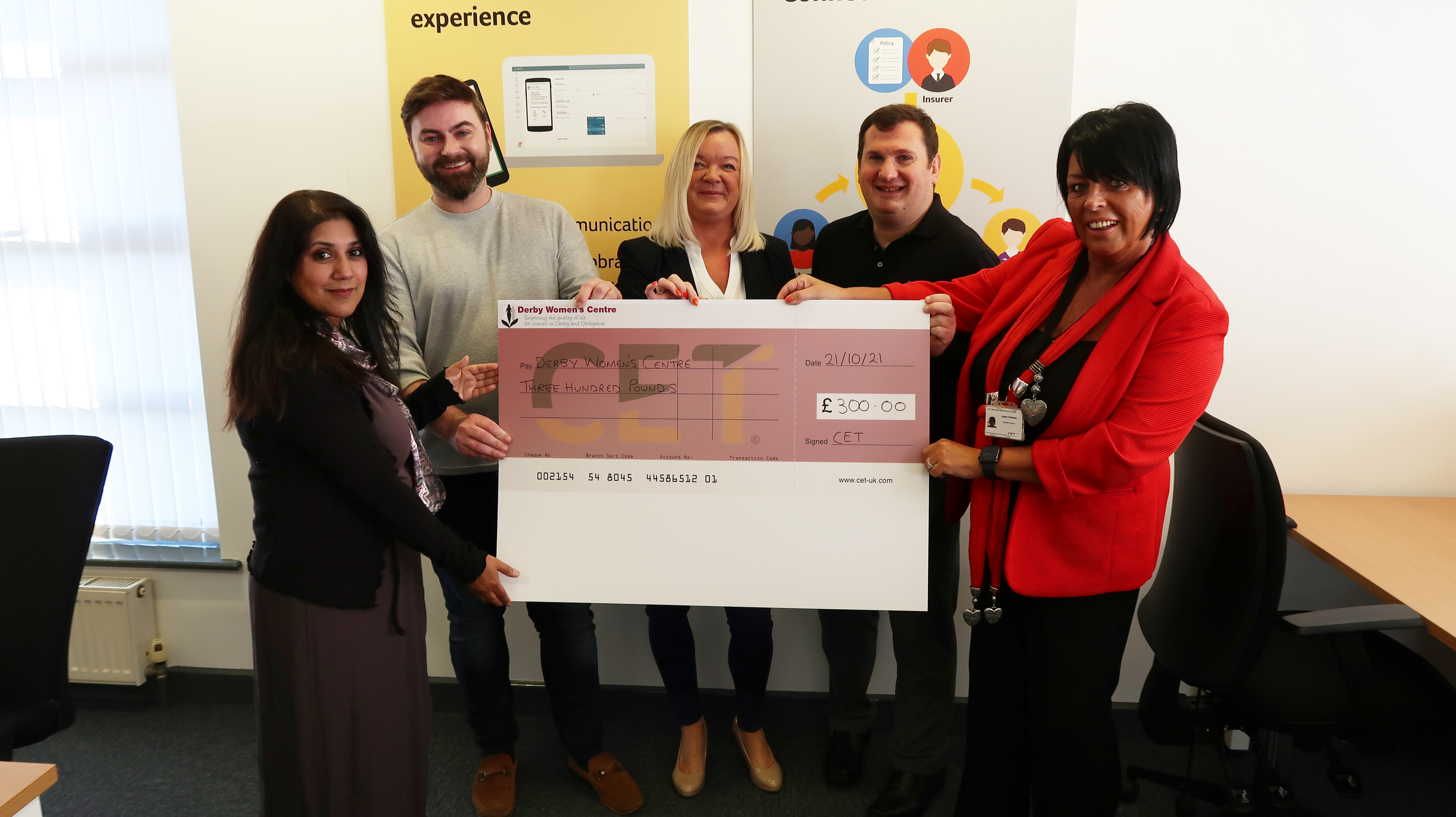 In October 2021, CET raffled off additional holiday for Our People, and were successful in raising an incredible £300 in aid of Derby Women's Centre! Derby Women's Centre is an amazing charity that helps to support those who are victims of domestic abuse. The £300 CET raised will be used to provide women travel to a safe space, necessities, and training.
Accepting the cheque is Norean Yasin (left), Service Development Manager for Derby Women's Centre. Handing the cheque over are (left to right) Lewis Darby, Karen Ackerley, Scott Thompson, and Jan Fairhurst who are all Mental Health First Aid Ambassadors at CET.
Read All About Us
Click below for the latest updates from around our business