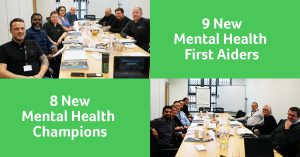 Following the successful implementation of Mental Health First Aiders (MHFAs) in November 2018, CET has trained an additional nine MHFAs across the CET Group of Companies.
The training, which was delivered in partnership with Mental Health First Aid England, prepares MHFAs to support colleagues who are in crisis in the workplace. Key topics covered by the course include:
Anxiety disorders;
Depression;
First aid for suicide crisis;
Self-harm;
Eating disorders;
Personality disorders, and;
Psychosis.
The new MHFAs takes the number employed by CET to 20. Located nationwide across the CET Group of Companies, the MHFAs give all office, lab and field-based employees access to emergency emotional support when they need it.
CET also trained an additional nine employees to be Mental Health Champions, through Mental Health First Aid England's 1-day course, which covers the same topics as the First Aid course in a condensed format.
Peter Eglinton, CEO of the CET Group of Companies, commented: "One in four of us will experience mental ill-health in our lifetime, and workplace stress can be a contributing factor. The addition of our new Mental Health First Aiders ensures that employees have access to the help they need, when they need it.
"It is important for us as a business to provide support to all of our people and to ensure that we are doing everything in our power to promote a safe working environment. We know that support services outside of the workplace are under increasing pressure, so CET is trying to find more ways to make sure our employees have access to care."
In the run-up to Mental Health Awareness Week (13th-19th May), CET has launched fundraising initiatives to raise awareness of Mental Health, as well as to raise money for its three nominated charities; the Samaritans, Place2Be and The Lighthouse Club.
Continuing, Peter said: "We're committed to making CET an open and safe environment when it comes to talking about Mental Health, which is why we're investing in a week of activities for Mental Health Awareness Week. The senior management team are all taking on challenges to help spark conversations across the business, as well as to raise money for important charities that support people when they are at their most vulnerable."
Look out for more news on how CET is celebrating Mental Health Awareness Week 2019.