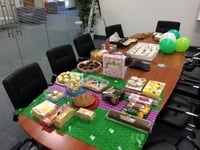 On Friday 30th September, CET staff across the country took part in the latest MacMillan coffee morning.
The teams in Wolvey, Harrietsham and Castle Donington did their best bake-off impressions and brought in a variety of cakes and biscuits to help us all make it through to lunchtime.
Thanks to everyone who baked or bought on the day. We raised a total of £787.
Back in March of this year we entered into a two year partnership agreement with MacMillan Cancer Support, with the aim of raising as much money as possible for this very worthwhile charitable organisation.
Since then the CET team has held a successful Easter raffle, completed two coffee mornings and competed in the 450 mile CET Team Cycle Challenge.
Keep up the good work everyone!
[maxbutton id="1"]
About the MacMillan Coffee Morning
"The first ever Coffee Morning happened way back in 1990. It was a rather small affair with a simple idea: guests would gather over coffee and donate the cost of their cuppa to Macmillan in the process. It was so effective, we did it again the next year – only this time nationally. Since then, Coffee Morning has raised over £138 million for Macmillan."