CET are delighted to announce the opening of our new headquarters at Castle Donington. Chief Executive Bob Blunden was joined by local MP Jessica Lee, who unveiled a brass plaque to commemorate the occasion.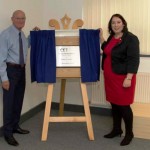 Bob Blunden commented: "CET has experienced a sustained period of growth over the past three or four years where we have seen the expansion of our sales and service offerings across both our Property Assurance and Infrastructure divisions."
"The new offices have been designed specifically for our needs and comprise a mix of open plan working areas, meeting rooms, a new staff canteen and break-out areas."
The office move is more than purely cosmetic. CET has also take the opportunity to invest in new IT and communications infrastructure that provides improved systems performance, resilience and functionality; allowing CET to provide an even greater customer experience.
The move itself was testament to our project management skills and was staged carefully to avoid any impact on customer service.
The new headquarters has three times the floor space of our old office and has been designed with flexible working in mind. The efficient floor plan allows us to accommodate for additional staff during peak periods, quickly and easily.
The final comment goes to Bob; "The new office is a demonstration of our continued investment in our customers. It allows us to provide an even greater standard of customer service and reflects our commitment to managing our customers' requirements with professionalism, skill and empathy".