What lies beneath?
Sub-surface solution from CET solves drainage difficulties
To tackle a technically challenging project initiated by a planned extension to a private dwelling, CET Drainage Engineering (CETDE) has designed a bespoke attenuation and drainage system – working in close collaboration with Thames Water to fulfill a tight spec.
Adjacent residential properties in Aylesbury had encountered surface drainage issues throughout the 10 years since their construction, but when preparation began for an extension to one of the homes, the full extent of the problem was revealed. CETDE was called in on behalf of the adjuster, and conducted initial CCTV surveys to remotely assess the situation.
After quickly discovering that the installed drainage system was non-operational, with the storm systems discharging directly into the surrounding ground, and having found no evidence of a soakaway system, the next stage in beginning to rectify the drainage problem was a percolation test.
These investigations revealed that a traditional soakaway system was incompatible as the ground's make-up was predominantly clay, meaning a bespoke system was the only solution. CETDE began by collaborating with Thames Water to tackle the issue of access to the public sewerage system, and were granted permission to connect to it by the utility company – on the proviso that a maximum of three litres per second could be discharged from the new surface water solution to the sewer. With this stipulation in mind, CETDE determined that a pumped attenuation system allowing accurate control of discharge volumes and set about devising the solution.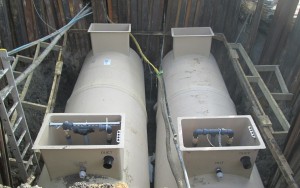 Project Manager, Nick Long of CETDE explained: "To meet Thames Waters' requirements, our system centred on two 14,000 gallon attenuation tanks which each discharging a maximum of 1.5 litres per second. These were installed within a 5x6x6 metre excavation which had to be carefully managed by our specialists who encountered a variety of challenges, including the extensive dewatering required to near-constant rainfall which undermined the stability of our excavation. Our team devised a purpose-built steel boxed framework and piling to shore up the installation pit during the works, but further challenges were to come.
"As the waste material removed contained contaminated wet spoil and could not be re-used, and due to the fact that the tanks would lie beneath a trafficked area, the site team had to ensure the structural integrity of the driveways and properties. Fortunately, we were able to draw on many years of experience to specify a 60-tonne mix of concrete and recycled stone coupled with precast concrete raisers to provide the required strength and safeguard the surrounding roadways and structures."
With the assistance of Thames Water, the penultimate stage of the project saw the pipework connected to the local public sewer, with integrated electrical connections powering a control panel and high-level alarm system within each property.
Finally, testing and adjustment to the float system within each tank was completed and verified, providing a fully operational surface water drainage system to both properties after an installation time of only 11 weeks.
For further information, you can download an alternative PDF copy of the case study, or visit our drainage services page.