The 7th annual CET Oscars took place this month. The event celebrates CET employees from around the UK and a select few walk away with a host of accolades recognising individual and team excellence, innovation and commitment.
Doncaster
Mick Naughton and Ricky Stocks, technicians working in the site investigation team, jointly won the Health & Safety Champion award. Usually presented to an individual, the judges noted that they could not overlook either of the team for their involvement in a challenging subsidence investigation. Mick and Ricky arrived on a site and immediately spotted a dangerous scaffolding structure; given their Health & Safety training and experience they were able to assess the necessary remedial requirements and organised their implementation, avoiding a possible injury, or worse, to the workmen on site at the time.
Kent
CET's Infrastructure team picked up two of the most sought-after awards. The Manager of the Year accolade was presented to Phil West, who has led the Geotechnical and Environmental Consultancy and Site Investigation team for almost five years, building on more than thirty years' experience in the industry.
Also bringing a plaque back to Kent are Phil's colleagues in the Infrastructure Account Management team, who walked away with the Team of the Year accolade after impressing the panel of judges. Bob Blunden, CET Chief Executive, explained: "With the client at the heart of everything they do, the team has built itself from a standing start just two years ago into an indispensable part of the service, always honouring the promises they make and achieving outstanding results."
Billericay
CET's Billericay Site Investigation team picked up another of the most sought-after awards – the Health & Safety Divisional Shield. Presented to a team who demonstrate commitment to health & safety that goes beyond compliance, the winning team were commended for their faultless reporting and continually updating their safe working procedures for swallow hole risk assessments.
Castle Donington
CET's Castle Donington team picked up three awards in total, with prizes ranging from £200 in John Lewis vouchers to an all-expenses paid weekend trip in the UK. Beth Pearson, Home Emergency CET's Castle Donington team picked up three awards in total, with prizes ranging from £200 in John Lewis vouchers to an all-expenses paid weekend trip in the UK. Beth Pearson, Home Emergency Supervisor, walked away with the Employee of the Year award, after being nominated for her 'sheer endeavour and hard work' which sees her consistently put the customer first, motivating her colleagues to give the best possible service to people in distress.
Beth's colleague Rebecca Simpson, Home Emergency Claim Handler, was presented with the Technology Champion award for her contribution to the company's drive to improve service through the implementation of technology, as well as her adaptability and flexibility when it comes to road-testing new developments before roll-out. Louise Shepherd, Internal Operations Manager, took away the Giving Our All award. Named after CET's motto, the award recognised Louise's consistently outstanding service to policyholders and colleagues alike, after she was nominated by her peers for being an example to follow.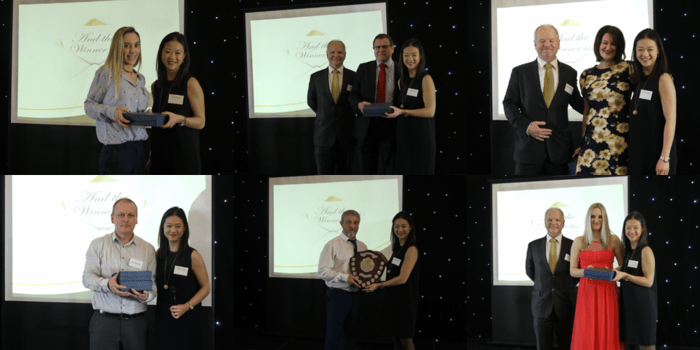 Chief Executive Bob Blunden, who hosted the ceremony, commented: "As specialists in construction, health & safety excellence runs right to our core, and we always aim to meet and exceed expectations. In order to be successful, each and every employee has to live and breathe health & safety which is why we reward our best-performing team annually. The Doncaster team have seen off competition from their colleagues nationwide and should be proud of their success."
An important part of the awards ceremony was a presentation by Gini Smith, Senior Fundraising Manager from Macmillan Cancer Support. In just two hours, the awards attendees managed to raise an impressive £1,310 which can fund some 49 hours of nursing care, or seven Macmillan heating grants. This generous sum is added to the £6k+ that has already been raised through a variety of staff-initiated events.